March 2020
Things in Jars by Jess Kidd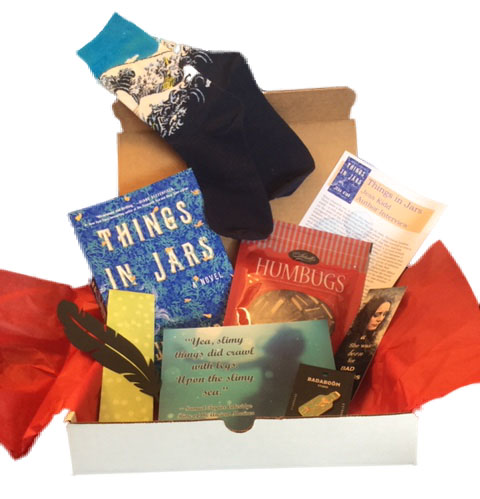 SOLD OUT
The March Callisto Crate selection is the gorgeously written Things in Jars by Jess Kidd. In this fascinating Gothic mystery, we delve into the macabre world of early medicine as, Bridie, detective extraordinaire, is faced with a case that pits fact against fiction while she relentlessly investigates the disappearance of an unusual girl.

Humbugs, these ones handmade by Stilwells in Montreal from an authentic recipe, are a quintessential Victorian candy that the characters eat in the book.

The beautiful pin of a mermaid in a jar by Badaboom Studios in Toronto bring together 2 important elements of the book – mermaids and apothecary.

Pastelrain Creations crafted the wonderful raven feather bookmark in honour of the raven in the book.

The ocean socks evoke the sea that is so prevalent in mermaid lore.

The custom bookmark features a quote that epitomizes the heroine.
We also have an exclusive interview with the author!