January 2020
Such a Fun Age by Kiley Reid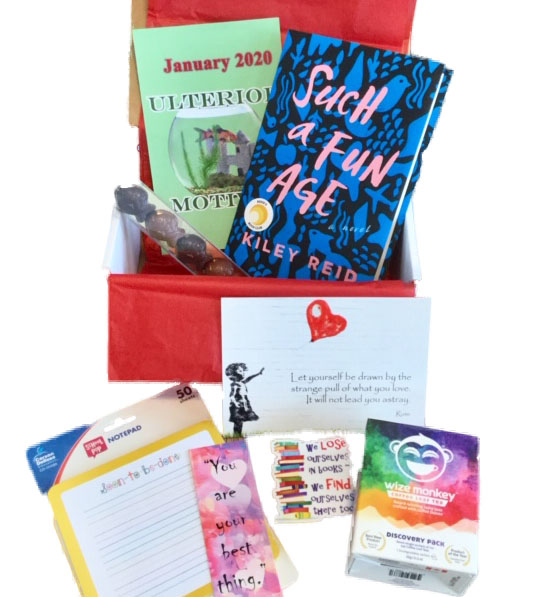 SOLD OUT
Our first book choice of 2020 is Such A Fun Age by debut author Kiley Reid. We thoroughly enjoyed this very readable yet thought provoking book that explores race and privilege. Emira, though aimless, works to figure out what she wants, what will make her happy, and the reasons behind why people treat her the way they do. The explosive start leads to revealing fallout.

Helmcken Chocolates from Clearwater, BC made us these scrumptious raspberry filled dark and milk chocolates shaped like goldfish. These echo the goldfish on the cover, and also in the book.

The little girl who Emira takes care of absolutely loves to smell different teas, so we've added this tea discovery pack of delicious coffee leaf tea from Wize Monkey in Vancouver, BC.
The notepad with the phrase "Soon to be done" symbolizes Emira's aimlessness for much of the book as she tries to figure out what she wants to do.

We've had a fun sticker made saying "We lose ourselves in books ~ we find ourselves there too", both because we are all book lovers, but also because Emira is on a path to find herself.

The lovely bookmark this month has a quote from Toni Morrison because this powerful and inspirational woman's books make an appearance in this one.