February 2020
Wildland by Rebecca Hodge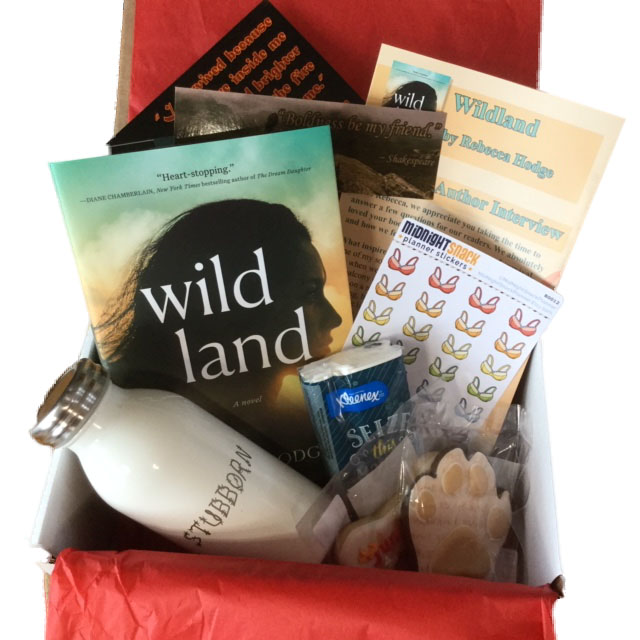 SOLD OUT
February's book choice is Wildland by Rebecca Hodge. In this gripping debut novel, Kat's breast cancer has returned. Needing space to decide what to do, she rents a cabin on a mountain for some solitude, but when a forest fire breaks out, Kat finds herself with 2 dogs and 2 children to steward to safety. During this fight for survival, Kat must decide what's worth living for.

One of the things that the characters need most while fleeing the forest fire is water. They also draw on hidden strengths and rely on each other. To symbolize both of these, Kamloops Artist Gemini Skull Designs designed for us this water bottle that says "Stubborn". The bottle is double walled and is good for both hot and cold drinks.

Rescuing the dogs and survival is a big part of this book, so we've included these gorgeous & delicious sugar cookies made by So Sweet! Cookie Company in Kamloops, BC. One is orange-cardamom and the other is chocolate-black pepper.

The Bra Icon Journal Stickers from Midnight Snack Planner in Red Deer, AB represent Kat's breast cancer and are for you to use as a reminder for your own breast health appointments & self checks.

The little package of tissues is because this is a book that took us on an emotional roller coaster and made us cry.

The bookmark features a Shakespeare quote, one of the many used by Kat in the book.
Rebecca Hodge was kind enough to give as a wonderful & informative exclusive interview, which you'll find in the brochure.