December 2019
The Ten Thousand Doors of January by Alix E. Harrow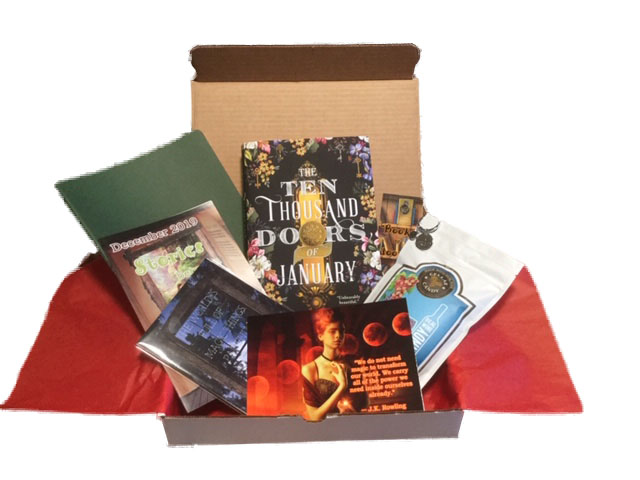 SOLD OUT
Our December novel is The Ten Thousand Doors of January by Alix E. Harrow. This beautifully written novel set in the early 1900s follows the heroine, January, in a fantastical journey of self-discovery after she finds a mysterious book. Spirited and brave January will do whatever it takes to learn about herself and her family, embarking on impossible journeys in this story of doors, books, and adventure.
Wild Roots Art of Kamloops, BC, created a beautiful, exclusive Collage Print with a wonderful quote from WB Yeats especially for Callisto Crate, invoking a sense of magic and adventure so prevalent in the book.
The artisanal Wine Gums by Cellar Candy are made with real wine, which remind us of the drinks at the gatherings of the Archeological Society run by Mr Locke. Also, wine gums were invented in the early 1900s, which is also the time frame of this novel. NOTE: these wine gums do contain real wine and so do have a slight alcohol content.
This novel revolves around January's notebook and the magic it invokes, so we have included a lovely Moleskin Notebook, a classic notebook used by writers and artists for centuries. We hope you can create something magical with your notebook as well.
Adventure, keys, and doors are central to the novel, so we have included a cute Adventure Awaits keychain.
The bookmark contains a simple quote from the book, but one which is sure to appeal to every booklover.
Alix E Harrow was good enough to answer a few of our questions in the fun and insightful author interview found in the brochure.