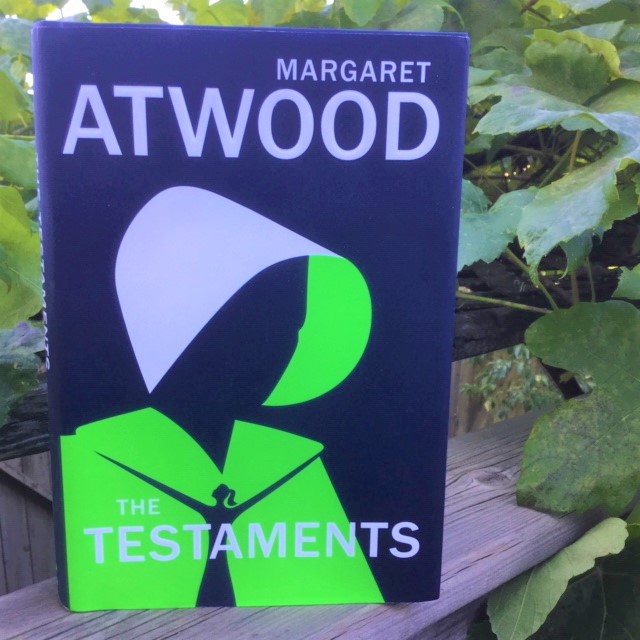 Margaret Atwood Announces a Sequel to The Handmaid's Tale
Like so many other avid fans world-wide, we were ecstatic to hear the announcement that Margaret Atwood was going to publish a long-awaited sequel to her iconic dystopian novel, The Handmaid's Tale. All we knew at the time was that it would take place 15 years after Offred got into the van and that it would answer many questions. Atwood also told the world that the current political climate helped her decide to write the sequel. We could hardly wait for the release date to get our hands on the gorgeous new book.
The Testaments Does Not Disappoint
We absolutely loved reading The Testaments and hearing from the 3 different women's point of view: Aunt Lydia, a young woman who grew up in Gilead, and a teenager watching what's happening in Gilead from Canada. Their stories are woven together expertly and had us turning the pages in anticipation of what would happen next.
We will admit that the first half of the book, though excellent, is difficult to read, not because of the writing, but because of the content. There was actually a point about 100 pages in where one of us was reading the book in public and had to go home because she started to cry. This dystopian world was just a little too real. This is the power of Atwood's writing – not only is her writing compelling and vivid, but she is vigilant about not adding anything to the book series that doesn't have a precedence in real life. The implications of this when reading both The Handmaid's Tale and The Testaments is staggering. (This same principal holds true for The Handmaid's Tale television series.)
The Testaments is a Book For Our Times
It is exactly this type of writing and attention to story and detail that makes Atwood exceptional as a dystopian author – she looks to the past and studies human behaviour to determine how things could turn out in the future. She does this expertly in The Testaments, so much so that it is chilling to read how women are treated and then to close the book and turn on the news and see striking, disturbing parallels.
This type of writing is where we see the power of fiction – this incredible ability to play with ideas, to give us warnings, to foster understanding, and to put a microscope on our own society and behaviour. In this day and age of the #metoo movement and the questioning of human rights, we need books like The Testaments. We need strong women reads to show us both what is possible and as cautionary tales.
The Power of Strong Women Reads
This is exactly why we at Callisto Crate have decided to focus on strong women reads for our boxes. We have an unwavering belief that telling women's stories, even when they are being victimized, is powerful because these same books also show women surviving, thriving, and overcoming. We see ourselves, our friends, our family, our world. We can relate and learn, and at the very least, develop compassion and understanding. Books are bridge building tools.
It may seem like a trivial thing, but it is not. We choose to support and promote authors who tell women's stories in a powerful, authentic, and honest way in order to inspire others, to encourage more of this kind of necessary writing, and to make connections with other women.
Have you read The Testaments or The Handmaid's Tale by Margaret Atwood? What did you think? Have you read other books that you think are important because they reflect what's going on in society, define our values, or are inspiring? Feel free to comment below, send us an email or connect on Facebook or Instagram.
Note: Callisto Crate is a Canadian book box subscription service that curates strong woman reads and pairs it with artisanal gifts related to the book for a unique and immersive reading experience.